Potential New Product - Offset Air Cleaners
---
*** note:   Hang in there and at the bottom  of this article, you will be asked if you have any interest in a potential new product.
For now over 30 years we have been making AoK  Triple carb intakes  for the  25 1/2"  Canadian 
flathead engine,   found in  Chryslers from 1937,  Desoto's from late 37/38,  and  Canadian built  Dodge /Fargo trucks,  Plymouth,  Dodge cars
since 1936.  Prior to that George Asche has been making triples from factory intakes from both the American  23 1/2" platform, the  American 24 - 24 3/4" platform
and the Canadian 25 1/2" platform from the early 1950s.  As well renowned  performance intake manufacturer made a Triple carb intake for the 25 1/2" motor
starting in 1952  and of course when Chrysler came out with the optional factory dual carb, dual exhaust options on trucks for the 25 1/2" platform, almost immediately
car enthusiasts were trying to put them on cars.  Of course the governors and balance tube made it tough to get under the hood but they made it happen on stock cars and I will attach a picture of the factory intake and then the  "modified version" that was used on a vintage stock car.
For all of those   Air cleaners are always a big topic.     Air cleaners for both cosmetic purposes and  of course for functionally removing dirt from the air become the 
reason, but in many cases the challenge is to get them to fit in the engine bay.
Lets start with my 1949 Plymouth, which is a Canadian built car that came from the factory with the 25 1/2" motor, and when we put the Aok triple on it.
The 1st two pictures was the very day that was done and joined the "what air cleaner can I use club"
So I measured from the firewall to the middle of the carb.  You can see that picture here and the paper was because to cover the hole  where the
cardboard air duct  had been.
Like lots I looked at  various 3 1/4 - 3 1/2"  air cleaners and the one that was marked 4"  actually wouldnt fit as it 
was actually 4 9/16"      So he hunt was on, and  I found 3 vintage Edmunds air cleaners which after some searching
found that the 4" air cleaner cartridges for a VW fit perfectly.      On they went
Side view of the AoK triple on my 1949 Plymouth
Almost immediately I was asked where  I had gotten them and could they get a set.  Of course finding the original  Edmunds was next
to impossible. Over the next year I lent my intakes to someone who then copied them and  they are in fact available today.
Here is the  Eddy  Edmunds  1952  - "Edmunds Racing" triple carb intake for the 25 1/2"  motor.
Where we put the triple of our dragster,  we didn't have the firewall restrictions so we were able to move up to 6" air cleaners.
when your do the calculations there is a huge difference between a 4" and 6" air cleaner and  we could see on the dyno, but
of course I had access to  air filter engineering test equipment and it was  unbelievable the difference between the 2, never mind 
when we tested some of the so called 4" air cleaners which were really 3 1/4" and 3 1/2" air cleaners.
Here is a closer look at that air cleaner which is actually 6 1/2" air cleaner.
Here is the factory dual carb intake I referenced and then the modified version to get it under the hood of a car.
This being the factory air cleaner for the dual carb setup but they maybe the rarest of the rare for mopar air cleaners
This being a reproduction of a 1930s Mopar aair cleaner which was later used by the 1951 GMC  pickups
and  in the late 1940s and early 1950 Fords,   We had the star tops made and chromed or powder coated.
This allowed to use a modern air cleaner element.
Here is one of the original 1930s air cleaner.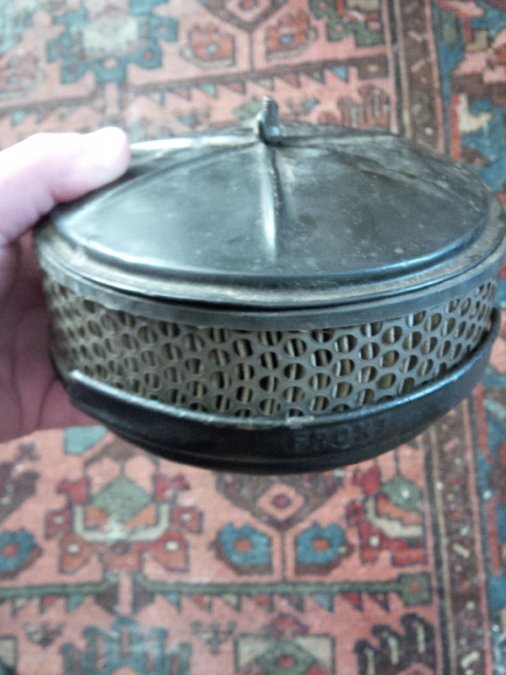 Of course the air cleaner as much as I would love to have it on my 1949 Plymouth, or my buddy George Asche Jr would love 
to have it on his prized 1929 Desoto, they just wont work without a major firewall modification.  George as you will see
here has run the Edmunds Racing intake since 1954 and it was instrumental to his going undefeated in 1954
on Daytona Beech on the famed flying mile drag race course.    Hitting 142 mph over the course George stunned
those running everything from the hot v8s of the day, Hemi's, a hot rod Lincoln dragster to a v12 Jaguar.  Of course
George knew if you remove the air cleaners, as much as that put the engine at great risk, the increase in performance was obvious.
Over the years I  have often toyed with the idea of offsetting the larger 6" or 6 1/2" air cleaners to get the major increase in  air surface and in some cases 
even with  dual carb intakes the offset is needed to avoid conflicts under the hood.  A few years ago a customer we were doing an engine for, took
a sketch I made,  our stop air cleaner creations and created 6 offset air cleaners. Here are those prototypes
Which if you look closely you will notice they will sit nicely on the flare top carter ball and ball carbs.
Which allow you to use the factory air cleaner clamps for a super snug fit
Here is the prototype sitting on my 1949 Plymouth
This is just a mock up but you will notice the 6 1/2" air cleaner fit perfectly and is no closer
to the firewall that the original Edmunds Air Cleaners.
Now the creator of the  original prototype  found out just how big of an undertaking the offset base was to make and 
really had no interest in making any more and believe me I tried.  In fact I chose not to mention him here, not
in an effort to avoid giving him credit, but because naming him could wind up unleashing the masses trying to 
pester him to make "just one more set" for them.
At this point  I could  just leave it be,   have the 3 air cleaners finished and  given to George Asche Jr for his 90th birthday and the other 3 finished up
and place on our 1936 Fargo which although rock stock internally, sports an AoK triple and a set of George's  headers made from factory exhaust manifolds
like my 1949 Plymouth.      BUT... and it is a Big but,  that really isnt the AoK style to  make something that no one can ever have.
To that (and congratulations if you have read through this book to this point.... lol) another AoK customer and  Flathead Mopar super fan has 
decided to join forces and see if he can get the offset air cleaner bottoms made.    In this case, he is well versed with the manufacturing world
both in the United States,  Canada,  off shore in the orient and  down under in Australia.
i know  there is massive amount of interest, but  and again its a big but, at what price is that interest ?
I know if they were $10 we could sell, oh about a million of them,  and if they were  $1500  for one we would sell  pretty close to 0.   I say pretty close
because I know a couple of guys who have already offered me a ridiculous amount of money to scoop 3 of the ones I  just had powder coated.
I also know how pricy it is to create the star tops and those air cleaners without the offset are in the $150 range.    It is possible that the offset
bottoms could be sold just as a bottom where a customer could do their own air cleaner element and top or as a complete air cleaner.   I can tell you
if we can make these  cheap, as in low cost and high quality we will, but at the end of the day demand will determine if the project gets off the ground.
If your interested,  drop me a PM here or a note to me at fargopickupking@yahoo.com.  Of course is your interested at the $$  below what the current off shore bottoms
with hose clamp connection, replaceable elements & star top air cleaners, sorry but at this point I don't think there is a need to get in touch with  us, because unless
something unforeseen happens I don't see  that  happening.
Thanks -
AoK boys
Edited by timkingsbury