The Worlds Greatest Intakes - AoK
---
Hi folks - 
The good news folks, is that the AoK Boys will be making another run of our AoK Intakes;
The bad news is this will likely the last run we do...
More at the end of this note, but as requested by many, a look back at how the intakes came to be...
It was over 20 years ago that  George Asche Jr and Eddy Kingsbury (both Feb 1932 babies)  we hanging out at Chrysler Carlisle, or The All Chrysler Nationals.   Along with George's son Rob and
Ed's Son Tim,  there was a few trips down memory lane from  George's 142 mph run in 1954 on Daytona Beach in the Flying Mile to Eddy building a Legendary Top Fuel Engine that would Rock
the World setting the 1st of many World Record runs, to  Tim's 1971 Challenger that he and his Two Grandfathers would  build, for Tim to Campaign in what would be the Pro Stock division and leaving behind all time Track Records at more than 1 strip.  Of course having a Legendary Chrysler Engineer as a Grandfather whose best friends ranged from Eddy Edmunds to Al Sharp never hurts  a build either.
It would be during the "Bull Session"  that idea of building a 1/4 mile dragster was hatched.  During the next few hours every body style was discussed and of course what type of power plant would
it have was a key topic.  Sure Eddy could  go into the shop and go crazy on some Top Fuel Hemi monster, but that just seemed to be a case of "same old same old".  
Of course  it didnt take long before the conversation swung to - "I wonder how much power we could make in a Chrysler Flathead....    and....  what are the things we would need that we really dont have access to  or potentially have never been made.
The big 3 items became -   1) A wild cam with lots of torque, lots of rev and lots of power.
                                                 2)  Light weight top fuel grade pistons with modern rings
                                                 3)  A few delivery system....   lol   An Intake
The 1st one, well that  became a case of digging into the Chrysler experimental archives, pulling out the Asche archives ,   put everything in a blender, pour it over ice, do a bit of tweaking and well
a Big Ass Wild Cam was born.  #2, well that is call - 1-800 ask Shirley Muldowney for a set of .125 over bore Venola Top Fuel grade coated pistons and Plasma Moly Rings.
The 3rd, well that would take a bit of work.  1st we looked at, flowed and tested  a huge variety of intakes. From  triple carb intakes from the Legend Eddy Edmunds, to other after market intakes, to over a dozen custom intakes, to fuel injection, hell we pulled out turbo and blower intakes that were squirrelled away in the AoK archives  and over 2000 man hours later we had an encyclopedia of 
fuel delivery systems.   A few times we circled back to Eddy Edmunds - "Edmunds Racing"   Triple intake and a one off intake that was made at the Chrysler Engine Plant in Windsor in the early 1950s.
Next a good friend of Tim's that he went to School with who would be known of the best modern intake designers  alive today, was talked into,  or conned into helping so that we could play the game of -"What would Eddy Edmunds and/or Tim's Grandfather have created if they had modern design, testing, simulation and casting technology".
Out of all of that and several alpha and beta versions, we created 10 -  AoK Racing triple carb intakes.
Now to be very honest, there was never any intention for any of these to ever leave the Kingsbury or Asche Families.
It would be while Eddy Kingsbury was playing with one on his "Olde School" flow bench that he speculated what the AoK racing triple would be like on the Family Relic.  That would be a 1936 Fargo pickup which would be one of the 1st 100 trucks to have a new 25 1/2" engines from the Windsor Engine Plant.   Two hundred and one, massive cubic inches or Chrysler flathead..  lol  Ok.. while that engine would sport a forged steel crank balanced to the gram, balanced rods, a pressurized oil system and bearing inserts coated with a new formulation that would eventually be known as Clevite 77 coating, it would lot make 100 hp.   For its day, in 1936 compared to Henry Ford or Chevrolet  it was quite something, but compared to a later 265 ci engine with factory dual carbs and headers, well it was pretty tame.
The 201 ci motor was still rock stock, never bored, stock cam, really as stock as  it gets.  On went an AoK racing triple. Eddy and George had to figure out mounding a pivot point on the intake
for the pickup, and a  matched set of 3 carbs and a set of headers made from a stock exhaust manifold.    What happened was incredible and honestly I wished both my Grandfathers had been alive to see the results.  The Rock Stock 201 gained 25% more HP to the rear wheels and taking it for a 60 mile trip the fuel economy improved by 7 miles to the gallon.
That was the "Ah hah" moment when it became obvious that the intake was just the most fuel efficient delivery system ever made and what you stacked on top of the triple carb intake obviously
depended on how many cubic inches of engine,  how many RPMs you were going to be spinning, with how much horsepower and how much torque your producing.
From that point forward, I think 7 of those 10 intakes wound up and engines that were stock, to fairly modest performance engines.  Certainly nothing wild.  The response was through the roof
positive.  More Power, Better Fuel Mileage,  More Torque and the complaint were simple -  "Why dont you make an AoK intake for the USA 23 1/2" Engine"..
It would be over a decade later when we asked the  Mopar Hobbiest what they would like to see -  a  Triple for the Small Block or a Dual Carb intake. Overwhelmingly the response was
to great a dual carb intake that took everything learned with the AoK Triple for the 25 1/2" engine and apply it to a dual carb intake for the 23 1/2" engine as well as make it so it can easily be used on car  pre and post WW2 cars as well as trucks.
Tim would take it upon himself to name this AoK intake as the "AoK -  George Asche Jr Limited Edition"  intake.   It was actually not intended to show up until the production intakes
were rolling out of the foundry, although some how the 1st Sample that arrived for George to look over, had his name on it. 
Since then we made a few runs of the AoK dual carb intake for the 23 1/2" engine and to be honest I have lost count how many runs of the AoK Triple carb intake for the 25 1/2" motor that we
have made.  I know between the two, they have been in over 50 countries.   In the last few year the foundry which we originally started with, has seen its owner retire and  his business passed 
on to another. Cost increases from the foundry, need for mold and tooling changes, cost increases to heat treat, cost increases to machine castings, have  moved this from a labor of love project where would shoot to break even to a loss on every intake sold.
We have looked at alternatives for every step along the way to produce intakes and while we have made some changes, both costs and minimum order numbers have increased.
We will be emailing those on our waiting list as well as anyone from here to see if we are within striking distance of the minimum order quantities
The cost of the AoK triple intakes (for the 25 1/2" big block made in Canada)  is going to be $620.00  usd plus shipping.
On the AoK -  George Asche Jr limited edition dual carb intake for the 23 1/2" USA small block they too will be will be $605.00 usd plus shipping.  
* We had hoped with North America being far from hot economies that we would be able to get pricing closer to what it has been in the past, but its just not there.
Everything is up and these are 
  priced so close to cost no one would remotely consider this a business adventure.  It is strictly to give those who have been on a waiting list a long time, plus a few that have had AoK intakes  and want more for a current or future project(s).
Linkage will range  depending upon what is required, but the standard 3 carb linkage with linkage that can be hooked up to linkage coming across the head will be $195.00 and the Dual Carb Linkage with be $175.00   That is stainless linkage hand made by George Asche for Carter Ball and Ball Carbs.
If you need linkage for a truck or pre-ww2 car you will need to supply a pivot point which is on your original intake for those vehicles.  Carbs, are going to be a problem for us to supply rebuilt carbs.    If you have cores and need them rebuilt we may be able to help but we can not supply carbs for all of the intakes.
* Note: realistically with several suppliers involved in the production of these, some effected by the Coronavirus, the realistic target for shipping should start by the end of March 2021.   For customers wanting linkage or their Carter ball and ball carbs rebuilt and everything mounted and setup it will depend on what linkage George needs to make and/or carbs he needs to rebuild. Obviously if we get them sooner they will be shipped sooner.
If your interested in either and not already on our waiting list, drop us a note and we will  happy to discuss your project(s).
Well can accept USA postal money orders, a check/cheque drawn in a USA or Canadian bank or PayPal (sent as friends and family cash transfer) 
Thanks
Tim Kingsbury and George Asche Jr
Attached is pictures of the AoK triple with inboard linkage (across the head)  and for the AoK dual intake for the 23 1/2"  motor, linkage  both on the outboard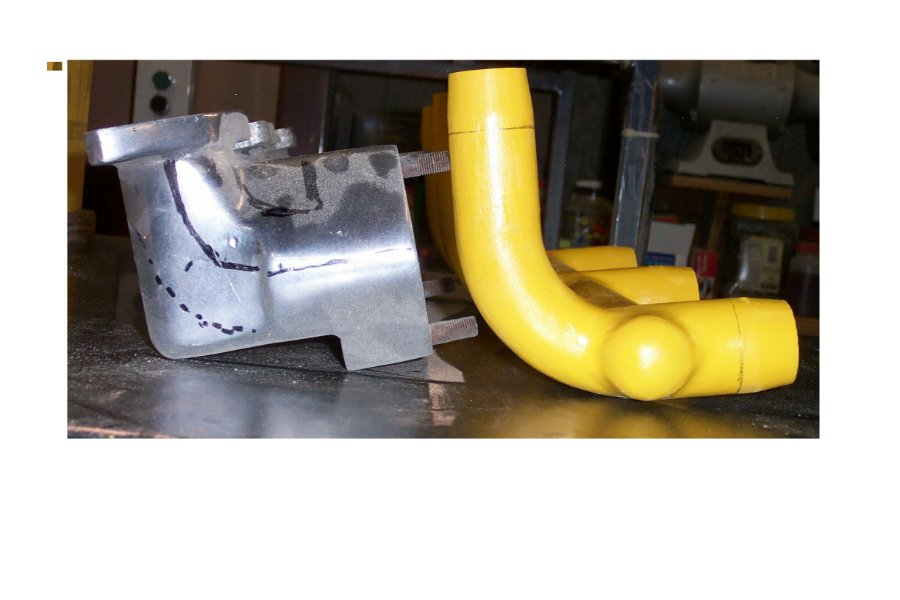 Edited by timkingsbury