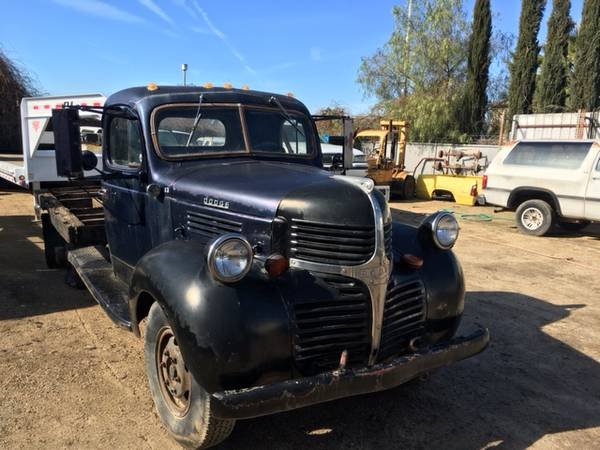 Content count

11

Joined

Last visited
Everything posted by Jomani
Thanks for the clarification. I read an ardvertisement that talked about cowl/cab options - possibly talking about COE vs. standard cab? How Stuff Works had an interesting article about the 46 Dodge trucks. They listed the following as extra cost options - nothing about vent windows - possibly no additional cost? "Extra-cost equipment included a larger clutch, four-speed transmission, oversize tires, electric driver's wiper, heater, chrome windshield frame, adjustable visor, driver's armrest, dome light, turn signals, "airfoam" seat with leather upholstery, and --- real luxury this -- an AM radio."

Just stumbled on this thread - definitely a steal of a deal. I recently picked up basically the same truck for a whole lot more $. Looks to be a fairly straight body with a great patina. My research indicates that the cowl vent and vent windows were indeed upgrades. One thing that you will want to take a look at is the transmission. The one ton trucks came with a non-synchro four speed- mine was shot. I picked up a newer synchronized four speed along with a 25" Spitfire Engine - after going back and forth about upgrading the drivetrain, I decided to keep close to original yet make a daily driver. Any progress with the new engine?

It would seem very unlikely that all 6 cylinders would experience the same problem unless there was a mistake made during assembly. Be sure to check the ring end gap. If it is too tight, when the ring expands from the heat that metal has to have a place to go - if not, it is going to break. You would generally see scoring in the cylinders if that were the case.

Hi everyone. New to this forum and new vintage Dodge owner. I spotted this truck on CL and had to have it - probably paid way too much but it is hard to find anything with a clear title and no back fees. Been burned by the strict DMV rules in California in the past. i just finished an old Jeep project and have done a couple of older Fords in the past. This will be my first endeavor into an older Dodge - looking forward to all of the help that a forum like this can provide. The PO listed it as a 3/4 ton but it has to be a 1 ton from everything I can tell. Has 132" wheel base and running boards that go all the way back to the rear wheels so it began life as a pickup. The Body is very solid - no rust or patches that I have been able to spot. Typical dents and dings that you would expect to find on a work truck. Seems to be fairly complete and original. Someone did convert to 12 volt at some point in the past. Evidence suggests that it came from Northern Ca. Probably the Redding area. Still undecided what the future will bring for her. I prefer to keep my projects as stock as possible. I was able to get the engine running - will pull it out and do a partial tear down to see what condition it is in. Appears to be the original 4 speed and rear end - I will check those for wear before deciding a direction to go in. From everything I have read, parts for a 1 ton can be hard to find.

Thanks for the responses. I went ahead and purchased the engine and transmission. Busy stripping paint right now so it will be a bit before I have a chance to test fit it.

I just stumbled across an engine and transmission combination that will allow me to bring the truck back to near stock. It is a Spitfire that the owner claims is out of a mid 50's Chrysler paired to a synchronized 4 speed. It is currently in a 47 Power Wagon and purrs like a kitten. Since this is a longer engine, can anyone tell me the best way to accommodate the extra length? The Power Wagon appears to have the original front engine mount, original radiator placement, etc. Perhaps it was built to handle the extra length. Maybe I am overthinking this. I have read posts that talk about pushing the radiator forward, but nothing specific to a WD-21. Anyone out there have this is the same truck?

Has anyone tried to install a Dodge 360 in one of these trucks? I tried searching this forum and couldn't find anything. I have an opportunity to pick up a 1977 Dodge motorhome with a 360, 727, dually for cheap. Thinking of keeping the original truck frame and making as few modifications as possible. I am guessing I will run into issues with the steering box and firewall clearance.

Just got the engine number clean enough to read. Looks like a 218 out of a 53 Plymouth. P24*4400* Since it isn't original and the Transmission is shot, pretty much made up my mind to go with something different. Anyone in the market for a 53 Plymouth 218 Motor?

After getting the engine running, I was pretty much convinced that I would be keeping the truck as original as possible. That was until I pulled the top off the transmission. Definitely been sitting with water in it. After pulling it out, I also found an old repair to the case. The transmission is toast. Now I need to locate another 4 speed or look at different drive train options. Anyone have a spare 4 speed laying around?

Dropped a battery in her, added some fresh gas, crossed my fingers, and hit the starter button. This is what happened

Thanks for the link. Unfortunately, the vin plate is missing from the door frame. Not sure what the stamped plate on the door frame actually is but didn't work in the vin registry. I pulled the front fenders off the truck and was able to find the vin stamp on the frame. It worked in the vin decoder and came up as a 1947 WD20 or WD21. Since it has the longer wheel base, it must be a WD21. Decodes Vehicle Identification Numbers (VIN) from most Dodge, Plymouth, and Fargo Trucks manufactured from 1936-1980. Over the years Dodge had several different lengths (from 7 to 13 characters) and styles (mix of alphabetic and numeric characters) for identification numbers; this decoder attempts to correctly recognize and properly decode the variations. This VIN Decoder is based on official Chrysler documentation including Parts Lists, Service Manuals, and Serial Number Guides. Some of the information presented such as wheelbase, engine displacement, and engineering codes, is not directly addressed in the identification number but is extrapolated from the appropriate Chrysler documentation. Please report any errors, additions, suggestions to the email address at the bottom of the page. Serial Number 86002914 Year 1947 Make Dodge Model WD-20, WD-21 Engine 230 Flathead Six Wheelbase 120, 133 Rating 1 Ton Engineering Code T116 Plant Los Angeles, California Build Number 1526 Now that you've successfully decoded your 1939-1947 Dodge Truck, please consider adding your truck to the 1939-1947 Dodge Truck Registry. Thank you for your interest and participation!