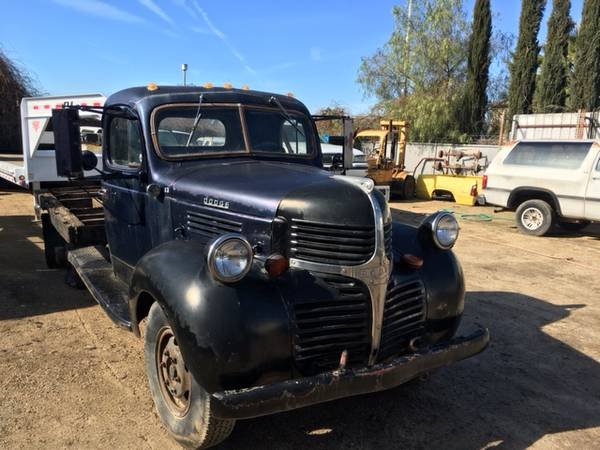 Content count

28

Joined

Last visited

Days Won

2
Profile Information
Gender
Location
Interests

Wood working, metal working, fixing old stuff.

My Project Cars

1947 Dodge 1 ton WD-21, 1956 Willys CJ5
Contact Methods
Biography

I enjoy working on older vehicles - mechanical and metal work

Occupation

Supervisor of Vocational Instruction (Vice Principal)
Converted
Location
Interests

Woodworking, project vehicles
Recent Profile Visitors
The recent visitors block is disabled and is not being shown to other users.
48Dodger

reacted to a post in a topic:

Cabbage Hauler - WD-21 Build Thread

ggdad1951

reacted to a post in a topic:

Cabbage Hauler - WD-21 Build Thread

DJ194950

reacted to a post in a topic:

Cabbage Hauler - WD-21 Build Thread

This week, I will tackle the larger piece of front chrome. It looks to be in a little better shape, but I think it will be difficult to get all of the waves out of the stainless after the dents are removed.

The nice thing about being laid up is that I had nothing but time to do research. I watched a number of You Tube videos on stainless trim repair, and figured I would give it a shot. A couple of small hammers, make shift anvils and dollies, and I had all of the dents and deep scratches smoothed out. A very tedious process, but then again nothing but time. Below are my first results. Very happy with these results.

So this is the point in the build where things went completely sideways. I ordered some epoxy primer so that I could spray the bare metal parts as I went. While waiting for the primer to arrive, I found out that I would need the quadruple bypass surgery. That put an immediate end to the build. Surgery was six weeks ago today - talk about a slow recovery. Two weeks ago, I finally had enough of the sitting around. I was cleared to lift 5 pounds and was ready to get back out into the garage. Since I had previously removed all of the front trim, I decided to start cleaning it up. It wasn't in as good of shape as I remembered.

Stashed the engine, transmission and rear end until I am 100% sure that the Flathead works out. The rest of the truck was cut up and sent to the recycler.

Fernando Mendes

reacted to a post in a topic:

Cabbage Hauler - WD-21 Build Thread

MartinsB3B

reacted to a post in a topic:

Cabbage Hauler - WD-21 Build Thread

Minimal sheet metal damage was easily repaired, and the grill was almost ready for primer.

While waiting for the new drive train, I decided to start stripping the paint off the front end. Chemical stripper revealed some surface rust under the paint. Cleaned up nicely with a little sanding.

Definitely agree. Not sure how much of the 47 trans is interchangeable with the newly acquired trans, but will certainly offer up whatever doesn't work with the final build.

As luck would have it, within days of disposing of the old motor home, I received a text from a local guy who had a mid 50's Chrysler Spitfire and four speed transmission. Couldn't hurt to look, right? Ironically, the engine and trans were in a running/driving 47 Power Wagon. The thing ran incredibly well and the transmission fully synchronized. I just couldn't resist. Pics below... He wasn't quite ready to pull the engine and I wasn't really ready for it anyway, so I put some money down and agreed on a couple months time to pick it up.

Ok - this is where my build went a little askew (the first time). After discovering that the engine wasn't correct for the vehicle and the transmission was toast, I started looking for alternative drive trains. I spotted a 74 Dodge Motor Home that had been converted to a work truck. The 360 with 727 trans and dually rear end seemed like a good choice. The price was next to nothing and was in running/driving condition. Just couldn't resist... Neighbors probably thought I was running a chop shop. Within two weeks all of the usable parts had been harvested and the rest was cut into manageable pieces.

Looks great. Did you sand blast the frame yourself or have someone do it? I have been looking at the sand blast attachments that work with a pressure washer and also the pressure pot from HF. Not sure how much I want to invest in the frame cleaning. Mine has no rust, just years of grime.

All was looking good until I opened up the transmission. Between the repairs to the case and the water damage to the gears, the transmission didn't appear to be worth fixing. That combined with the fact that a smaller engine had at some point replaced the original 230, it was time to rethink keeping this thing original.

The next day the engine and transmission came out.

Before pulling the engine, I was able to get it running. Unfortunately a number check indicated that it was not the original 230 But rather a later model 218.

Within a week of getting the old girl home, I started tearing her down. A little bit of research before jumping in would have made this easier - found out later that the entire front end comes off in one piece.

Adds character but probably won't make it on the final build. Should look good hanging on the wall.