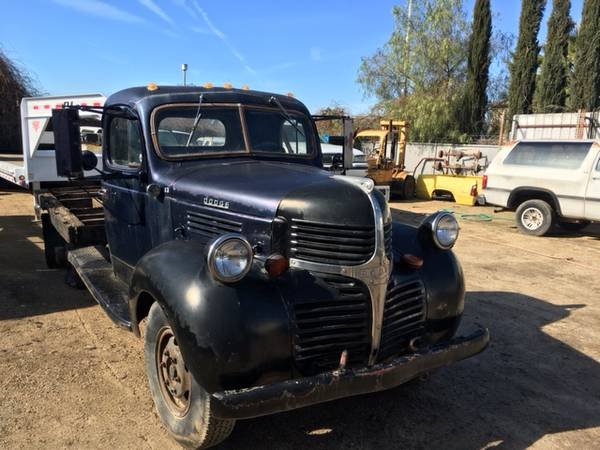 Content Count

122

Joined

Last visited

Days Won

6
About Jomani
Rank

Senior Member, have way too much spare time on my hands

Profile Information
Gender
Location
Interests

Wood working, metal working, fixing old stuff.

My Project Cars

1947 Dodge 1 ton WD-21, 1956 Willys CJ5
Contact Methods
Biography

I enjoy working on older vehicles - mechanical and metal work

Occupation

Supervisor of Vocational Instruction (Vice Principal)
Converted
Location
Interests

Woodworking, project vehicles
Recent Profile Visitors
The recent visitors block is disabled and is not being shown to other users.
The before and after pictures say it all. What a difference. Stance looks great. Test drive should be coming very soon. 👍

I was afraid of that. I am going to look into having one made. From what I can gather, the ball end is readily available on many other applications. I have access to a great machinist who wants to look at it. He thinks he can make the splines and fit the ball end to what he fabricates.

Good to see that you are back at it. Not a lot a "W" series activity here so I have been hoping to see some updates. Gotta love those MN winters. I grew up south of you in Austin and spent my high school days patching up rust on my buddies cars.

pflaming

reacted to a post in a topic:

Cabbage Hauler - WD-21 Build Thread

I finished dismantling and cleaning all of the front end parts today. Pitman arm and tie rod ends need replacing - I already have new tie rod ends. Time to start looking for a new pitman arm. Also need to see if I can find a drag link repair kit. Everything else came out looking very nice.

I would love to see your Plymouth - definately let me know if you make the trip. I am not as old as I am worn out...

Thanks. These things are a labor of love. It has been a while since I have taken on a project this large - I keep forgetting just how much work goes into it. Getting older doesn't help either.

It was a tight fit but made it at an angle. I actually wish it were smaller - won't fit in the garage so I have to leave it outside under a tarp. The price was right though - was originally a dental production cabinet that was fully automated (dentures placed on a turntable and fed through automatically) with a cyclone dust separator/collector designed for continuous operation. I couldn't resist bidding a penny for it and ended up getting it. I removed all of the automation (except turntable) and added glass and gloves. The cyclone unit does a great job filtering out the 70 year old grease and grime and leaves the aluminum oxide looking like new.

I got most of the parts blasted and cleaned up. While I had the blast cabinet running, I decided to throw the axle in and get it cleaned up. Came out looking great but seems to have a bow in it. Tomorrow I will get the straight edge out and take some measurements.

I got the front axle disassembled today. I was pleasantly surprised with the condition. King pins came out easily and had almost no signs of wear. I had already ordered a new set - had I waited I am not sure I would replace them. Drums came off easily. Bearings all look new. Drums are in great shape.

I have yet to make a bad flare since I got mine. Not something that gets a lot of use but well worth the money. I can't say that I have never forgot a nut though.

I am pretty sure he doesn't sleep 😎

Jomani

reacted to a post in a topic:

512 cid C series on Dakota chassis- build thread

You make some great points. My thinking is that It would be very rare for me to get much flex out of this suspension, especially with the overload springs. If I were planning to haul heavy loads regularly, I wouldn't do anything different than stock. I only want to do this once so I want to make sure that I don't regret skipping anything at this point.

Definately need to put something between the springs for smoother movement. I was thinking about using a leaf spring liner with a lip to help keep it in place. Anyone tried this stuff? It comes in 1 3/4" x 20'. I think it will take a roll and a half to do each of the rear springs with the overloads.

PT81Jan

reacted to a post in a topic:

Cabbage Hauler - WD-21 Build Thread

Worden18

reacted to a post in a topic:

Cabbage Hauler - WD-21 Build Thread

I had plans to get the frame ready for primer today but the rain came early. I ended up pulling the front axel and the rear springs off the frame and started breaking everything down. Got one of the rear springs disassembled and painted. Lots of springs to clean up - wire wheel did a good job knocking the rust off. Time to order some bushings for the springs.

Jomani

reacted to a post in a topic:

Engine Valves

If I recall correctly, the big concern with the switch to unleaded gas was the valve seats and not the valves themselves. As it turns out, unleaded gas seems to work better in older engines because it reduces the amount of carbon buildup. The bigger problem is the ethanol that they are adding to gas. It tends to be more corrosive and holds more moisture than plain old gas. Back in the 70's when ethanol was first introduced, I was working at a gas station in Minnesota. After we started selling ethanol, I spent the next six months pulling and flushing gas tanks - it tends to dislove all of the scale in the tank and plugs up everything in the fuel system. As you said, sodium filled valves cool better. Most burnt valves are caused by running too lean of a fuel mixture. The faster the heat gets transferred away from the combustion chamber the better.